Discover Vienna with kids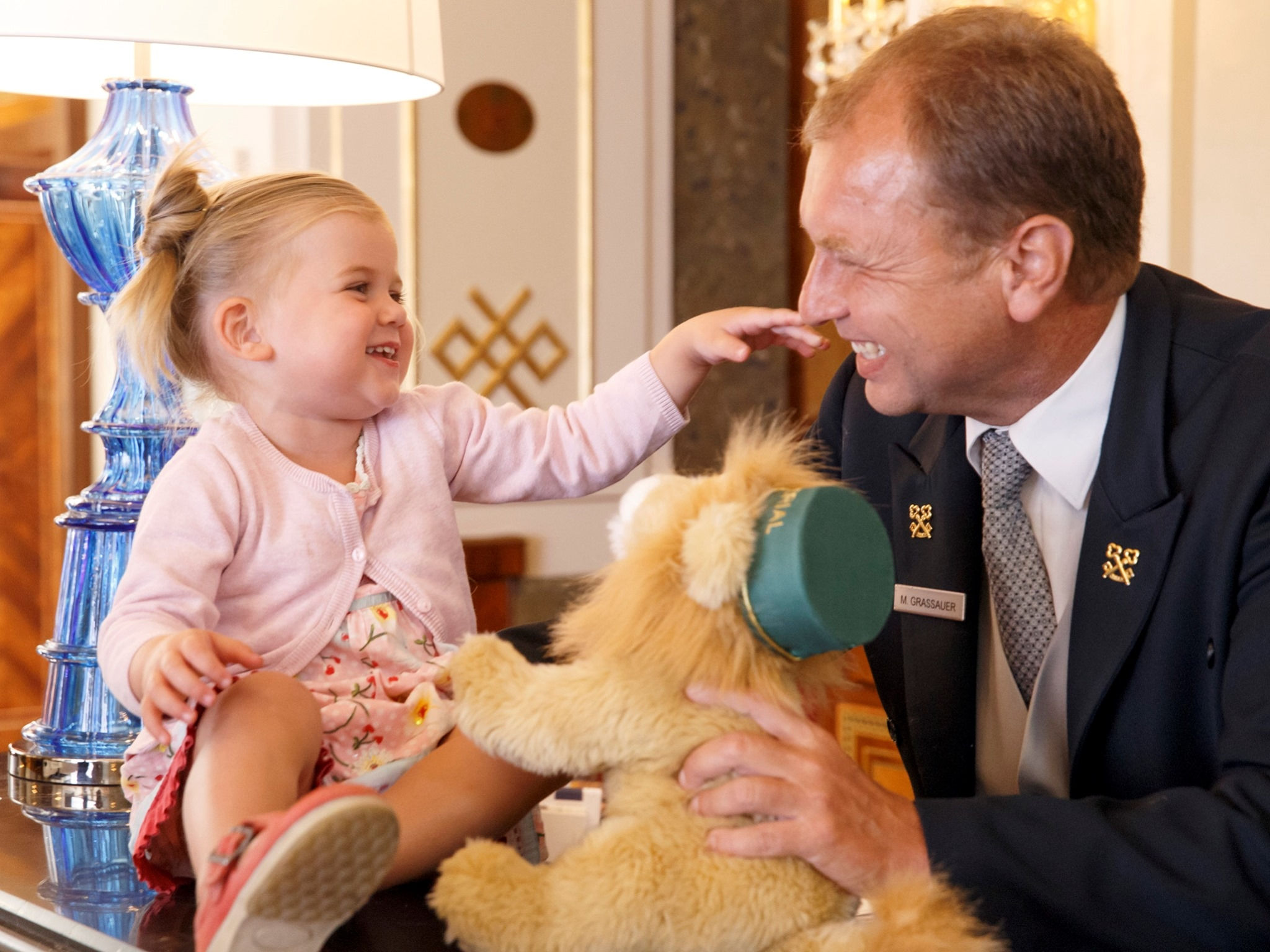 Family friendly Hotel Imperial
The legendary hotel has recently put together special children's packages for families visiting Vienna with children. You can paint cool pictures with colored pencils or pack your favorite toys in the "Philip the Lion" bag. The "Philip & Horace" book tells you about the exciting adventures of Philip the Lion and Horace the Stag.
To give boredom no chance, a coloring and riddles book is also waiting for you. And you know what? You will even be given your own room pass! The family flyer available in your room gives useful information to your parents to spend the perfect family vacation in Vienna together.
Vienna with Kids arrangements
Unlock Viennas hidden treasures and iconic sites and spend an unforgettable family holiday.
Arrangement 1:
10% on your accommodation
Breakfast for the entire family
Coloring book for children,"Philip & Horace" story book, map of Vienna


Arrangement 2:
50% off the regular rate for the 2nd room with connecting doors if available
Children under 12 eat free if their accompanying adult orders a regular meal
IMPERIAL KID'S EXPERIENCE
The Imperial Kid's Experience can be booked additionally for every stay. It includes:
Expedition "behind the scenes"
A cool Philipp the Lion bag, a coloring & enigma book, a story book 'Philipp & Horace', a kids activity booklet, color pencils
€ 45 per child per stay
Additional Services for families in Vienna
A great selection of rooms and suites with connecting doors
Organisation of babysitter service
Special children's menues
Take a look behind the scenes
Do you know Vienna, the beautiful city on the river Danube? Right in the city's center, on Vienna's famous Ring Boulevard with its majestic buildings, there is a former palace waiting for you: the Hotel Imperial.
But only the Imperial concierge has the really cool stuff for families visiting Vienna with children in store. As a profound connoisseur of Vienna he does not only have individual insider tips for your parents, but also knows what kids really want.
Here are the concierge`s top 5 suggestions for children visiting Vienna:
CHILDREN'S MUSEUM
You want to know more about the daily life of the imperial family? Then you've chosen the right spot. How was the imperial table laid? How about hygiene in imperial times? How complicated was it to put on all those different clothes, layer for layer? With what kind of toys did the emperor's kids play? This and much more you will learn at Schönbrunn palace's west wing – and you may even try on ancient costumes.

Schloss Schönbrunn
Schönbrunner Schlossstrasse, 1130 Vienna
PRATER
In the mood for action? Then you're at the right place. From toboggan to rollercoaster or to spooky ghost trains you'll find anything your heart desires at Vienna's "Wurstelprater". Those in a calmer mood may try the carousel or take a ride on the Giant Ferris Wheel, one of Vienna's landmarks. Right next to it you'll find the Planetarium, the Prater Museum or Madame Tussauds. And children in Vienna should definitely not miss a ride on the ancient Lilliput train.

Prater
Haupteingang Riesenradplatz, 1020 Vienna
HOUSE OF THE SEA
Wow – at the Aqua Terra Zoo you can marvel at 10,000 animals on nine floors. Sharks and sea turtles are the stars of the tropical seawater section, whereas you can watch free-flying birds and free-running monkeys at the tropical house and crocodile park. Since last year the 150,000 liter tank for the hammerhead sharks on the 10th floor has been another exciting highlight. In the café on the 11th floor you can refresh yourself and enjoy a breathtaking view of Vienna.

House of the Sea
Fritz-Grünbaum-Platz 1/anti-aircraft tower in Esterházypark, 1060 Vienna
MUSEUM OF NATURAL HISTORY
I know what you will like most at this great museum: the dinosaur and the kid's room. While in the kid's room you can play, explore and experiment after an exciting family tour, you will marvel at the skeleton of a diplodocus at the dinosaur room – one of the longest terrestrial vertebrates that have ever existed. But also many extremely rare or already extinct stuffed animals are showcased at this spectacular museum.

Museum of Natural History
Burgring 7, entrance Maria-Theresien-Platz, 1010 Vienna
MUSEUM OF TECHNOLOGY
A must for children in Vienna: the "mini", a special children's sector for two- to six-year-olds. Do you want to know how it feels to drive a fire truck? Have you ever wanted to become a police officer yourself? The "mini" is a venue for all your senses – here, you can touch and try, while in other rooms you will marvel at ancient flying machines, steam engines or historic automobiles together with your parents.

Museum of Technology
Mariahilferstrasse 212, 1140 Vienna